Real estate division in the US
Plaza identified a window of opportunity for investment in the US as result of the dislocation of the property market, specifically within the retail sector, created by recent economic conditions.
During the period from April to June 2010, EPN, a real estate investment venture jointly formed by Elbit Plaza USA, L.P. and Eastgate Property LLC ("Eastgate"), entered into a series of agreements to acquire a stake in EDT Retail Trust ("EDT" or "Trust"), an Australian investment trust which held and managed two US REIT portfolios. Elbit Plaza USA, L.P. is a jointly controlled entity of Elbit Imaging Ltd. and Plaza.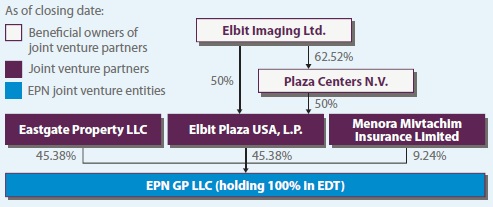 The EDT transaction was completed in six major phases:
Phase I – Acquisition of lending bank Note
EPN acquired a US$50 million note which was part of the Trust's unsecured debt from a commercial bank, at a 15% discount. Within 90 days of the note acquisition, the Trust paid off the face amount of the note.
Phase II – Acquisition of 17.6% of MDT – and 50% of Asset Manager
Prior to the Entitlement Offering referenced below, EPN has acquired a unitholding representing 15% of the Trust's units through a private placement and all of Macquarie's interest in MDT as well as their 50% stake in the external manager. This investment gave EPN access to MDT as well as a foothold investment in the Trust. Phase II also included changing the name of the Trust from MDT to EDT.
Phase III – MDT Entitlement – Offering/Recapitalization
In June 2010, with EPN acting as the subunderwriter for the Entitlement Offering, new shares in MDT (which was later changed to EDT) were offered to all existing shareholders. With very few existing shareholders electing to purchase additional securities, EPN was able to achieve, a 48% interest by investing US$116 million. EPN became the majority shareholder of EDT and gained control over the Board of Directors.
Phase IV – Investment by EPN – Tender Offer/Company Acquisition
In March 2011, EPN launched a tender offer for the remaining shares of EDT. By September 2011, EPN had invested an additional US$241.5 million and acquired 100% of the company by tender offer. Subsequently the shares of EDT were de-listed from trade and it became a private company.
Phase V – Robust Asset Management
Over the 18 months which EPN held the DT portfolio, EPN undertook some major actions to restructure, reposition and improve the EDT portfolio by taking EDT Retail Trust private and transferring kep personnel and management from Australia to the U.S. and undertaking a number of initiatives such as the refinancing of circa US$500 million of portfolio debt, improving the cost structure, improving occupancy by 3% since EPN's initial acquisition of the properties and increasing the stabilized NOI of the properties and increasing the stabilized NOI of the properties via re-letting expiring lease agreements.
Phase VI – Disposition
In June 2012, EPN has successfully completed the sale of 47 U.S. based shopping centers to BRE DDR Retail Holdings LLC, a joint venture between Blackstone Real Estate and DDR Corp, for a purchase price of circa US$1.43 billion. Net of property level debt repaid or assumed and including cash and other net working capital items, the proceeds to EPN are approximately US$530 million before taxes and transaction expenses.

Transaction details:
The EDT transaction was successful, because it was
(a) sourced on a direct basis in an "off-market" situation;
(b) acquired at a favorable price, accretive to above-market returns;
(c) effectively asset managed to increase occupancy and NOI; and
(d) opportunistically disposed in a transaction that keyed on timing to market.
During the second half of 2012 EPN Group's remaining two assets, Roswell Crossing and Lakepointe Crossing, were sold for a total consideration of US$41.8 million out of which US$13 million was settled by assumption of debt, thus marking the culmination of an extremely successful first venture into the US market for Plaza.
Following realization of its investment, EPN is gearing up for the next phase. It has identified and continues to source acquisition opportunities which provide access to quality real estate and can yield significant returns to investors.
To learn more about the EPN Group click here
To learn more about the EDT Group click here